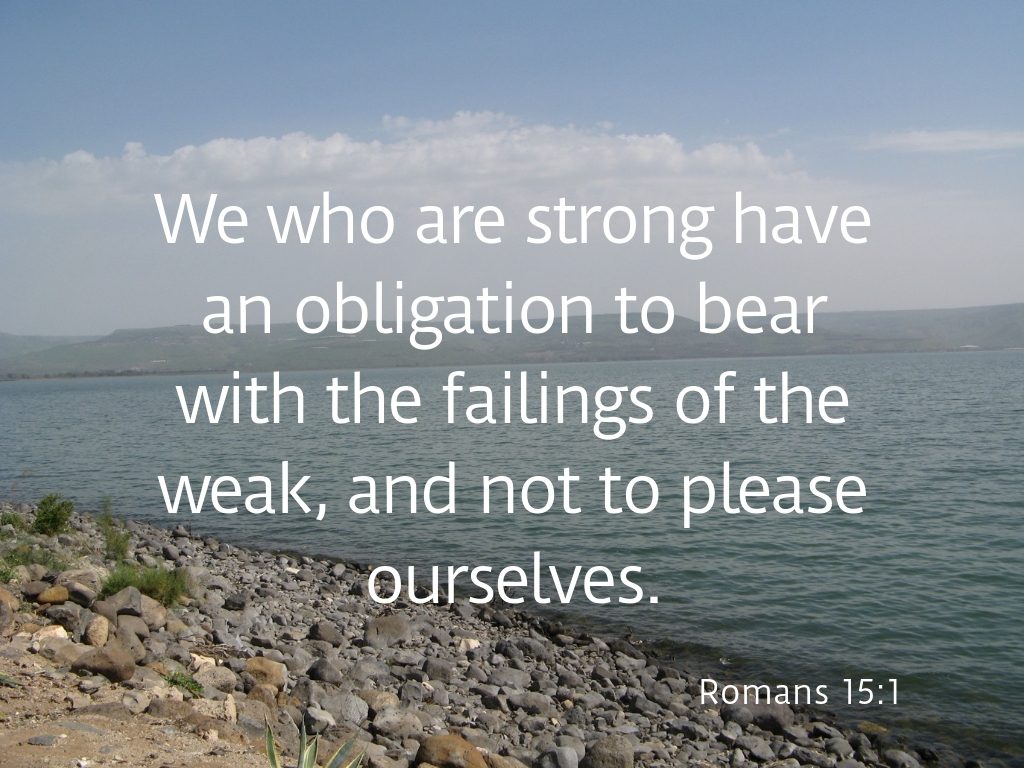 Christ did not please himself
Romans 15:1-3
1 We who are strong have an obligation to bear with the failings of the weak, and not to please ourselves.
2 Let each of us please his neighbor for his good, to build him up.
3 For Christ did not please himself, but as it is written, "The reproaches of those who reproached you fell on me." – Romans 15:1-3
Christ did not please Himself. He did not please himself but did His Fathers will and laid down His life for mankind so we could be saved.  He wants those who are strong to bear with the failings of those who are weak, just as He did. Paul is addressing those who are strong. Some times we are strong other times we are weak. We can judge our strength not by our performance but by our faith. Consider faith as a pipe that allows water to flow through it. The water is like the grace of God. Now there is a huge reservoir of water (the grace of God) that is inexhaustible. What restricts the flow of water (grace) is the width of the pipe. The width of the pipe represents our capacity to live by faith. The larger our faith the more the grace of God will flow to others. Strength comes through our ability to let God pour His grace through us to others. And, of course in that we experience the forgiving, compassionate grace of God towards others. But what blocks the pipe? A build up of sediment and rock? Limescale? Things that we will not let go of? Unbelief? Rebellion? Rejection of the grace God extends towards us? We restrict the flow by looking at ourselves and not at Jesus.
We are here to serve others, just a Jesus did:
For even the Son of Man came not to be served but to serve, and to give his life as a ransom for many." – Mark 10:45
The pipe of faith is to bring the water of grace to others. God has made us the pipe. God had ordained how big a pipe we are. We, sadly, allow that pipe to get blocked and restricted. But, God wants to use us to build each other up:
Therefore encourage one another and build one another up, just as you are doing. – 1 Thessalonians 5:11
24 And let us consider how to stir up one another to love and good works,
25 not neglecting to meet together, as is the habit of some, but encouraging one another, and all the more as you see the Day drawing near. – Hebrews 10:24-25
Jesus, although Lord of all came as a servant to wash our feet. He did not come to please himself. He was passionate for the kingdom of God and was single minded in His task to go to Jerusalem and face the cross. His faith in God was unrestricted, His relationship with the Father perfect. And yet, He was willing to face death that we might have life:
For zeal for your house has consumed me, and the reproaches of those who reproach you have fallen on me. – Psalm 69:9
He took the punishment we deserve. Now we can encourage the weak among us to look at Jesus the author and finisher of the work. Encourage other to seek His face (Psalm 27:8) He has inexhaustible grace – that we can pour our for others, through faith.