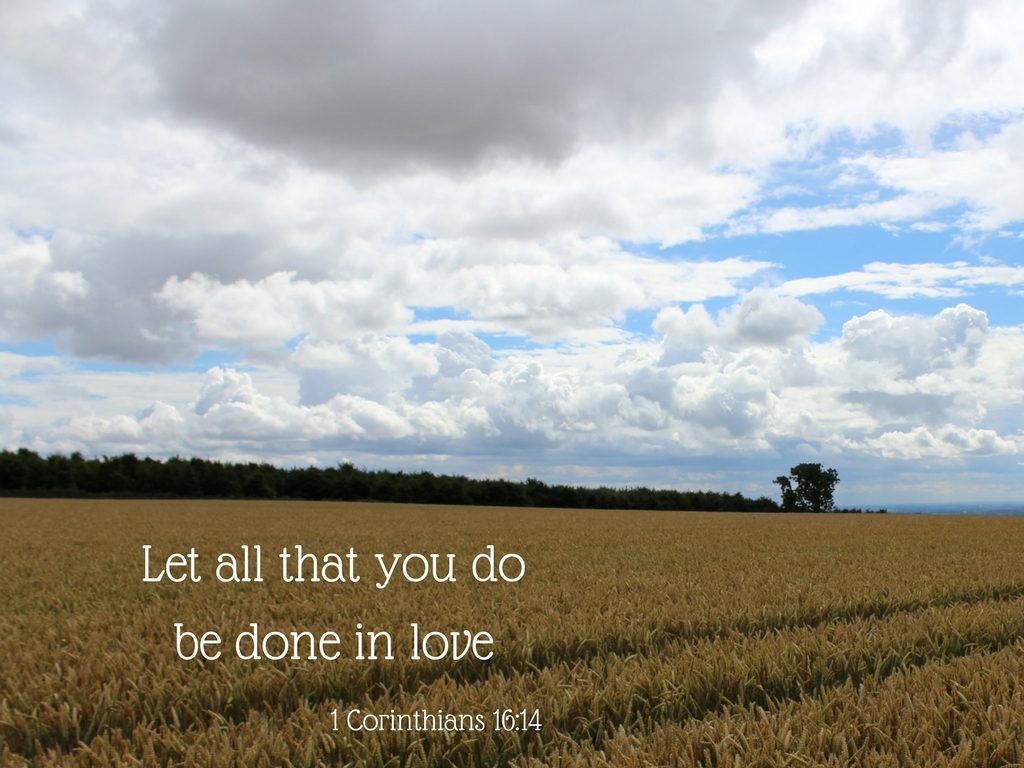 Let all that you do be done in love
The First Epistle of Paul the Apostle to the CORINTHIANS – Chapter 16
1 Now concerning the collection for the saints: as I directed the churches of Galatia, so you also are to do.
2 On the first day of every week, each of you is to put something aside and store it up, as he may prosper, so that there will be no collecting when I come.
3 And when I arrive, I will send those whom you accredit by letter to carry your gift to Jerusalem.
4 If it seems advisable that I should go also, they will accompany me. – 1 Corinthians 16:1-4
So, we get to the last chapter of this letter. Twenty four verses of instruction, plans, encouragement to honour and respect and as usual some powerful "one liners". The temptation is to skip final passages as we wonder who the people are and guess what some of the problems might be but it is interesting to consider how relational Paul was. He knew people, he was aware of the issues in the fellowships. He prayed with understanding. He made it his business to keep up with the news and encouraged those strong in faith to go and fellowship with churches that had needs. Here he was being very specific about how to collect money for the church in Jerusalem that was in dire need. He encouraged them to put gifts aside regularly and purposefully, to be collected later (Samaritans purse boxes springs to mind). Paul made plans but he was always aware that the Lord was in charge and Paul knew he had to be ready to follow the leading of the Spirit on a daily basis which could mean his own plans went out the window. We too need to pray that what ever we have planned for a day be subject to the Lord's will. The true blessing is following Jesus, not testing out our new oxen, unless that is His will.
---
5 I will visit you after passing through Macedonia, for I intend to pass through Macedonia,
6 and perhaps I will stay with you or even spend the winter, so that you may help me on my journey, wherever I go.
7 For I do not want to see you now just in passing. I hope to spend some time with you, if the Lord permits.
8 But I will stay in Ephesus until Pentecost,
9 for a wide door for effective work has opened to me, and there are many adversaries. – 1 Corinthians 16:5-9
The importance of being available to the Lord's plans continues. Paul would love to spend good quality time with the church at Corinth but the Lord has opened a door for effective work in Ephesus so he wants to be faithful to do what the Lord has put in his hands now. So often we loot tonthe great plan ahead when I finish college, when I get married, when I move, then the Lord will use me greatly but in reality He wants to use us today in what ever He gives us to do. Let's not wait for opportunities but see every moment as an opportunity to get to know God better.
---
10 When Timothy comes, see that you put him at ease among you, for he is doing the work of the Lord, as I am.
11 So let no one despise him. Help him on his way in peace, that he may return to me, for I am expecting him with the brothers.
12 Now concerning our brother Apollos, I strongly urged him to visit you with the other brothers, but it was not at all his will to come now. He will come when he has opportunity. – 1 Corinthians 16:10-12
A friend was sharing yesterday how a couple were instrumental in his early walk with the lord in disciplining Him. He said they opened their home to a young man who was a complete mess. They let him stay on their couch and showed him love. They also showed their weaknesses and their failures. But they were honest and taught him about God's grace. I remember when I was a young Christian a wonderful couple let me stay with them and were like spiritual parents for a while, greatly influencing my life. Hospitality is such a spiritual gift and can change people's walk with the Lord. Now I know the above passage is regarding mature believers but on the other hand the school of grace never closes and we are all learning daily. So as this church extended hospitality to Timothy and Apollos so both they and the church were blessed.
Do not neglect to show hospitality to strangers, for thereby some have entertained angels unawares. – Hebrews 13:2
---
13 Be watchful, stand firm in the faith, act like men, be strong.
14 Let all that you do be done in love. – 1 Corinthians 16:13-14
Here is one of the diamonds in the passage. Five commands each with a significant weight behind them. Watch:
Be sober-minded; be watchful. Your adversary the devil prowls around like a roaring lion, seeking someone to devour. – 1 Peter 5:8
"But watch yourselves lest your hearts be weighed down with dissipation and drunkenness and cares of this life, and that day come upon you suddenly like a trap. – Luke 21:34
Stand firm in the faith:
Put on the whole armor of God, that you may be able to stand against the schemes of the devil. – Ephesians 6:11
So then, brothers, stand firm and hold to the traditions that you were taught by us, either by our spoken word or by our letter. – 2 Thessalonians 2:15
"Act like men" in other translations is be brave but this is the only reference to bravery in the NT and the only time this Greek word is used. Steadfastness, faithfulness and obedience I guess make up bravery.
Be strong:
Finally, be strong in the Lord and in the strength of his might. – Ephesians 6:10
Do all from a motivation of love:
And he answered, "You shall love the Lord your God with all your heart and with all your soul and with all your strength and with all your mind, and your neighbor as yourself." – Luke 10:27
34 A new commandment I give to you, that you love one another: just as I have loved you, you also are to love one another.
35 By this all people will know that you are my disciples, if you have love for one another." – John 13:34-35
5 And now I ask you, dear lady-not as though I were writing you a new commandment, but the one we have had from the beginning-that we love one another.
6 And this is love, that we walk according to his commandments; this is the commandment, just as you have heard from the beginning, so that you should walk in it. – 2 John 1:5-6
Goodness, you could preach a series of messages from this one diamond!
---
15 Now I urge you, brothers-you know that the household of Stephanas were the first converts in Achaia, and that they have devoted themselves to the service of the saints-
16 be subject to such as these, and to every fellow worker and laborer.
17 I rejoice at the coming of Stephanas and Fortunatus and Achaicus, because they have made up for your absence,
18 for they refreshed my spirit as well as yours. Give recognition to such people. – 1 Corinthians 16:15-18
It appears that the three men here were the people who bought the letter from the Corinthians asking the questions that Paul answered in this letter. He was blessed by them and they refreshed him in his spirit. This is what we should be doing in the body of Christ. Fellowship should refresh people like a cup of cold water. We know he have been with someone who knows Jesus when we come away edified and built up and know we have blessed someone when they are refreshed in their Spirit.
---
19 The churches of Asia send you greetings. Aquila and Prisca, together with the church in their house, send you hearty greetings in the Lord.
20 All the brothers send you greetings. Greet one another with a holy kiss.
21 I, Paul, write this greeting with my own hand.
22 If anyone has no love for the Lord, let him be accursed. Our Lord, come!
23 The grace of the Lord Jesus be with you.
24 My love be with you all in Christ Jesus. Amen. – 1 Corinthians 16:19-24
So we come to the end of this letter. Paul signs off with his own handwriting which by all account was poor, a scribe would normally write for him. Fancy being the first to here these great revelations. Good job! Paul ends the letter with love. First cursing people who do not operate in love. It appears harsh but the word anathema to a Jew was the third and final Jewish discipline where they were cast out from the synagogue and no longer counted as a Jew (Where as we associate it with eternal damnation). If a Christian is not loving the brethren then maybe for a while they should be out of fellowship. Paul ends with a blessing of grace and prayer that "love be with you all in Christ Jesus". What a good way to end a letter – with Jesus – loving you.
The Holy Bible, English Standard Version. ESV® Text Edition: 2016. Copyright © 2001 by Crossway Bibles, a publishing ministry of Good News Publishers.