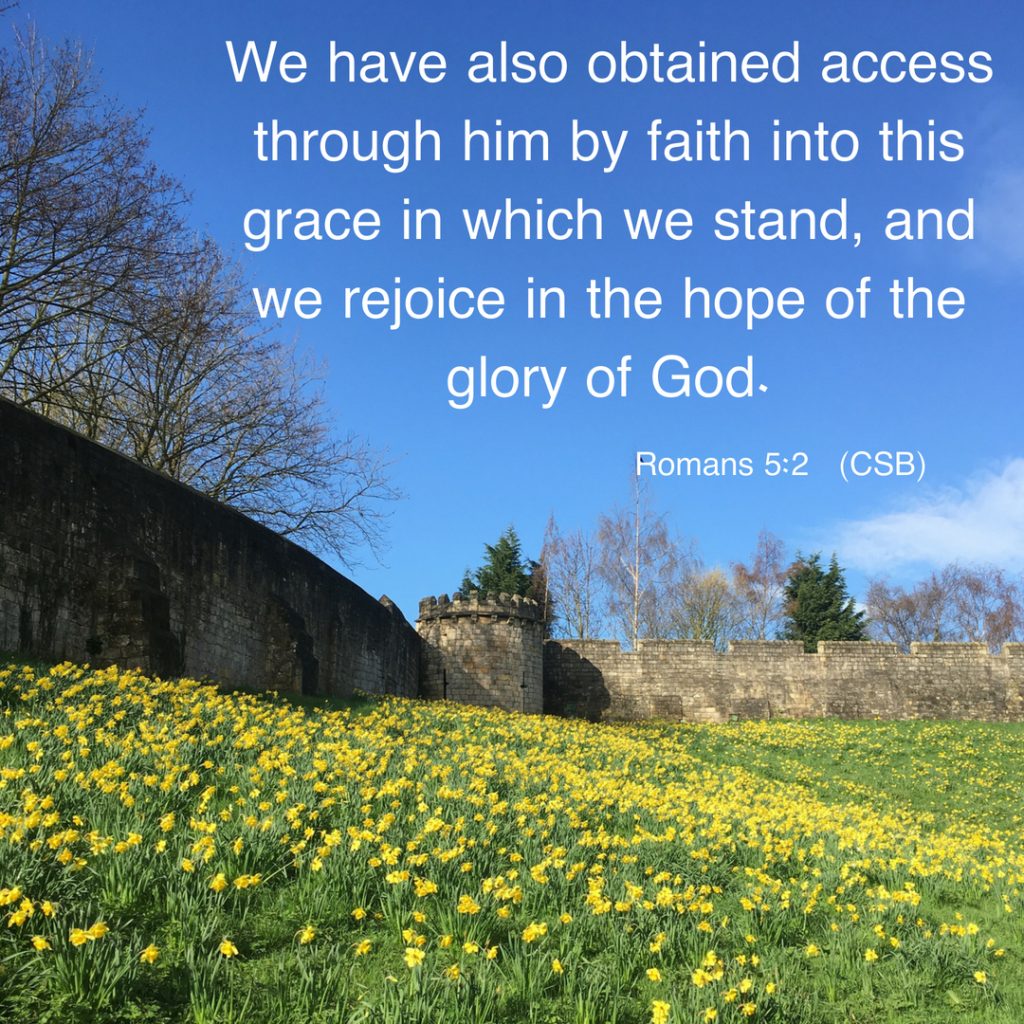 Romans 5:2
Through him we have also obtained access by faith into this grace in which we stand, and we rejoice in hope of the glory of God. – Romans 5:2
Through Jesus we have been given the opportunity to approach and enter the kingdom of God by believing and trusting in the promises of God. We are firmly placed in His grace and maintain our position not by works but by trusting in His mercy. Therefore, we are so full of thankfulness and adoration for the One who has saved us we just want to worship his name for ever. Jesus has given us hope instead of fear. Hope, not as the popular understanding of "I hope things get better" but hope as I full assurance of our salvation:
22 let us draw near with a true heart in full assurance of faith, with our hearts sprinkled clean from an evil conscience and our bodies washed with pure water.
23 Let us hold fast the confession of our hope without wavering, for he who promised is faithful. – Hebrews 10:22-23
What is our hope?
2 Beloved, we are God's children now, and what we will be has not yet appeared; but we know that when he appears we shall be like him, because we shall see him as he is.
3 And everyone who thus hopes in him purifies himself as he is pure. – 1 John 3:2-3
Our hope is that when Jesus comes back we will see Him face to face and we shall be like Him, throughout eternity.
Our faith and our hope are in Jesus:
who through him are believers in God, who raised him from the dead and gave him glory, so that your faith and hope are in God. – 1 Peter 1:21
We can fully trust the promises of God because He raised Jesus from the dead. Because of His love manifest in the death and resurrection of Jesus, we have an eternal hope – to be in the presence of the Lord forever:
Surely goodness and mercy shall follow me all the days of my life, and I shall dwell in the house of the LORD forever. – Psalm 23:6