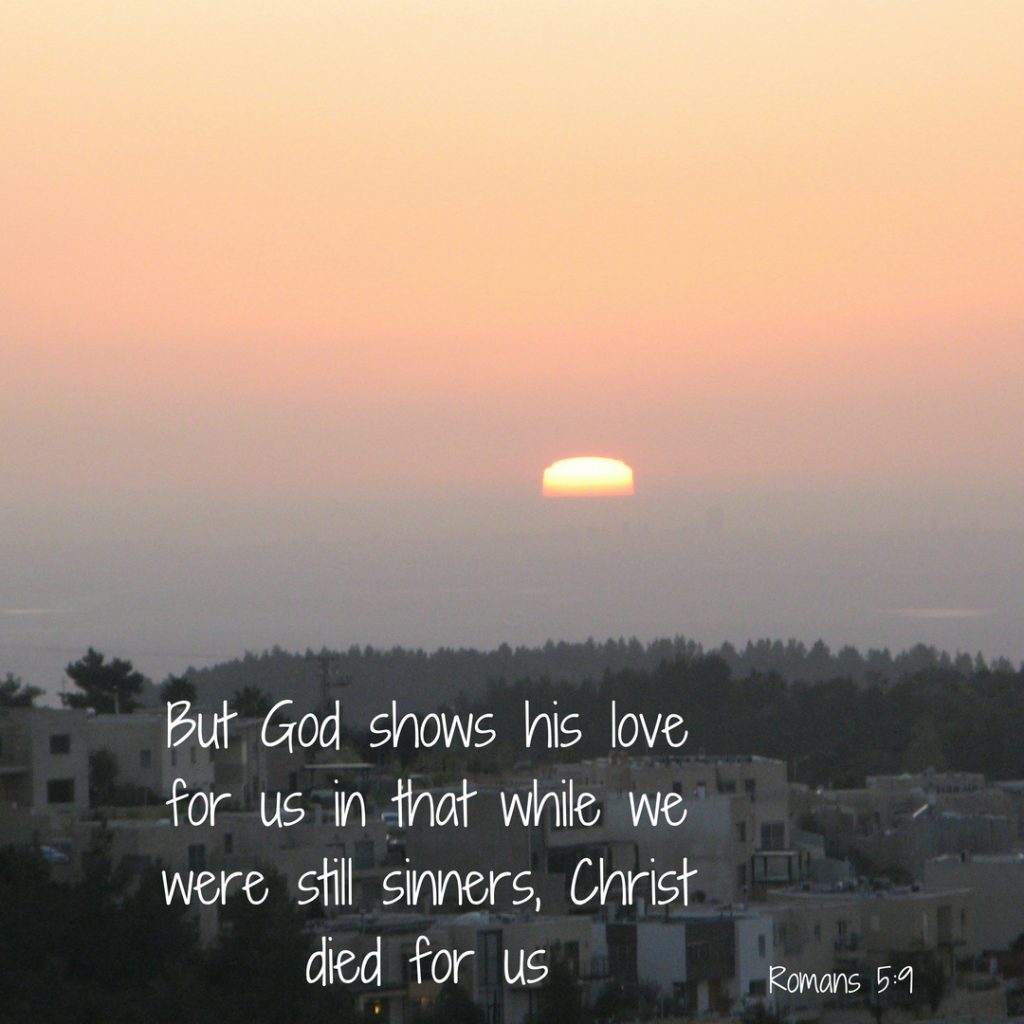 Romans 5:6-8
6 For while we were still weak, at the right time Christ died for the ungodly.
7 For one will scarcely die for a righteous person-though perhaps for a good person one would dare even to die-
8 but God shows his love for us in that while we were still sinners, Christ died for us. – Romans 5:6-8
God showed His love for us while we are still weak, while we are still sinners, He sent His Son to die in our place, to take the penalty we deserve. We are not asked to clean up our lives and make ourselves acceptable to God before He will accept us. He takes the weak and makes us strong.
For the sake of Christ, then, I am content with weaknesses, insults, hardships, persecutions, and calamities. For when I am weak, then I am strong. – 2 Corinthians 12:10
He takes the unclean and washes us:
let us draw near with a true heart in full assurance of faith, with our hearts sprinkled clean from an evil conscience and our bodies washed with pure water. – Hebrews 10:22
3 Now Joshua was standing before the angel, clothed with filthy garments.
4 And the angel said to those who were standing before him, "Remove the filthy garments from him." And to him he said, "Behold, I have taken your iniquity away from you, and I will clothe you with pure vestments." – Zechariah 3:3-4
12 When he had washed their feet and put on his outer garments and resumed his place, he said to them, "Do you understand what I have done to you?
13 You call me Teacher and Lord, and you are right, for so I am.
14 If I then, your Lord and Teacher, have washed your feet, you also ought to wash one another's feet. – John 13:12-14
25 Husbands, love your wives, as Christ loved the church and gave himself up for her,
26 that he might sanctify her, having cleansed her by the washing of water with the word, – Ephesians 5:25-26
Jesus died so that we could be washed clean from our sins. We can not do it but He has finished the work and bought our salvation. While we were still sinners.