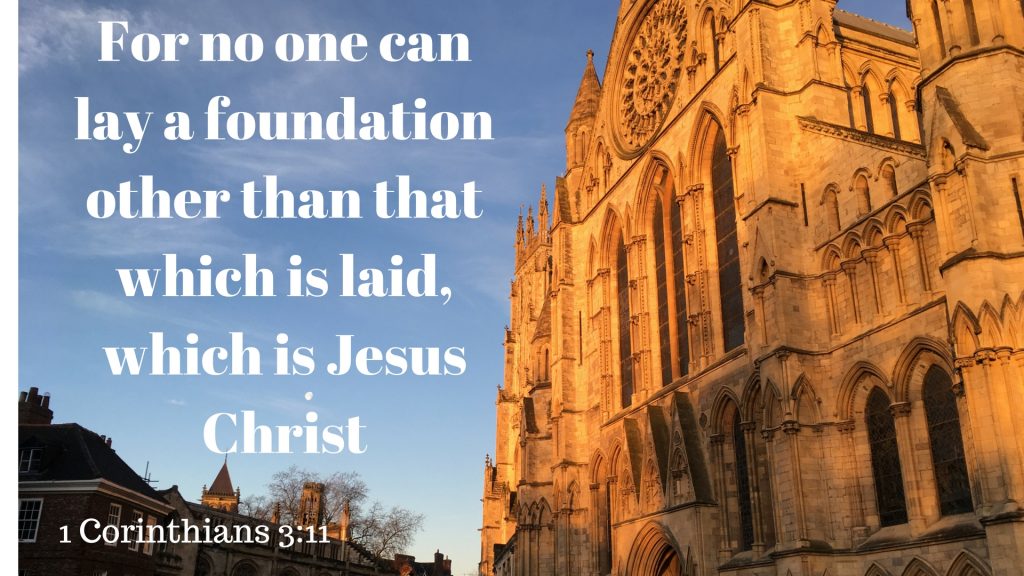 For no one can lay a foundation other than that which is laid, which is Jesus Christ.
The First Epistle of Paul the Apostle to the CORINTHIANS – Chapter 3
1 But I, brothers, could not address you as spiritual people, but as people of the flesh, as infants in Christ.
2 I fed you with milk, not solid food, for you were not ready for it. And even now you are not yet ready, – 1 Corinthians 3:1-2
We are now getting into the section of the letter that starts to address the difficulties in the church. Paul has begun by building them up and making them aware what they have in Christ through the Spirit. Now he begins to warn them that they are not developing in spiritual growth. One of the main problems in the church is when Satan stops believers from maturing in their walk with the Lord. Children are cute but they have to mature. Babies begin on milk but soon grow, requiring solid food, to satisfy their hunger. Christians need to move from the basic understanding of salvation to a position of being able to withstand the attacks from the wicked one.
"until we all attain to the unity of the faith and of the knowledge of the Son of God, to mature manhood, to the measure of the stature of the fullness of Christ", – Ephesians 4:13
We are to mature and grow and develop in Christ. But, Paul states this church is not ready……….
---
2 I fed you with milk, not solid food, for you were not ready for it. And even now you are not yet ready,
3 for you are still of the flesh. For while there is jealousy and strife among you, are you not of the flesh and behaving only in a human way?
4 For when one says, "I follow Paul," and another, "I follow Apollos," are you not being merely human? – 1 Corinthians 3:2-4
Interesting that Paul states that he fed them milk. I guess he was aware of their spiritual maturity but hoped they would mature. Jealousy and strife. Like young siblings in a family. Maybe it is best if we occasionally ask ourselves who do we follow? Of course the "spiritual" answer would be Christ but as Paul later dismissed that answer as well, I suppose who we should be truly following at this time in history is the Holy Spirit. That is true spirituality. And Paul has just pointed that out before highlighting this problem among them. To be led by the Spirit not the flesh.
For all who are led by the Spirit of God are sons of God. – Romans 8:14
But if you are led by the Spirit, you are not under the law. – Galatians 5:18
For Christ also suffered once for sins, the righteous for the unrighteous, that he might bring us to God, being put to death in the flesh but made alive in the spirit, – 1 Peter 3:18
I have been crucified with Christ. It is no longer I who live, but Christ who lives in me. And the life I now live in the flesh I live by faith in the Son of God, who loved me and gave himself for me. – Galatians 2:20
Thank God our flesh is crucified and we are alive in Him. May we experience that in our walk and not give in to a dead leader (our flesh).
---
5 What then is Apollos? What is Paul? Servants through whom you believed, as the Lord assigned to each.
6 I planted, Apollos watered, but God gave the growth.
7 So neither he who plants nor he who waters is anything, but only God who gives the growth.
8 He who plants and he who waters are one, and each will receive his wages according to his labor.
9 For we are God's fellow workers. You are God's field, God's building. – 1 Corinthians 3:5-9
We return here to a much loved subject in the New Teatament the life of a seed. Given that the economy of this time was so dependant on harvests of grain it is not supprising that Paul uses the same analogy as Jesus did. Concerning the parable of the sower Jesus said to them, "Do you not understand this parable? How then will you understand all the parables? – Mark 4:13. Jesus was pointing to the importance of the seed of the Word of God finding good soil in our hearts. In this analogy Paul is pointing out that crops need to be planted, they do not just appear. They need to be watered. Just like us, crops can not survive without water. Humans can not last much more that three days without water (though around 40 days without food). But it is God who gives the increase, the growth. He created all things. He designed seed to grow in a plant and to reproduce. One stalk of wheat has naturally between 20-30 grains. But modern strains can have up to 200 grains. Amazing reproductive capacity. But a stalk is weak and wind or hail can ruin a crop when it is near to harvest. The "super" crop still depends on the weather God provides to grow. It all depends on our Lord.
You visit the earth and water it; you greatly enrich it; the river of God is full of water; you provide their grain, for so you have prepared it. – Psalm 65:9
You have put more joy in my heart than they have when their grain and wine abound. – Psalm 4:7
Truly, truly, I say to you, unless a grain of wheat falls into the earth and dies, it remains alone; but if it dies, it bears much fruit. – John 12:24
We work together with each other and in the power of the Holy Spirit, as fellow workers with God, to bring in the harvest of souls the Lord has prepared. That will bring great joy.
---
10 According to the grace of God given to me, like a skilled master builder I laid a foundation, and someone else is building upon it. Let each one take care how he builds upon it.
11 For no one can lay a foundation other than that which is laid, which is Jesus Christ. – 1 Corinthians 3:10-11
Laying the foundation is an essential aspect of building a house. One of the earlier forms of foundation for a wooden building was to place a large stone at each corner called a pad stone. Maybe this is the origin of the term corner stone. Jeremiah mentions this "No stone shall be taken from you for a corner and no stone for a foundation" (Jeremiah 51:26). We have been given abundant grace (a foundation of Christian theology) taught by Paul in the first century. The church continues to be built by the power of the Holy Spirit on the foundation of Christ Jesus our Lord.
therefore thus says the Lord GOD, "Behold, I am the one who has laid as a foundation in Zion, a stone, a tested stone, a precious cornerstone, of a sure foundation: 'Whoever believes will not be in haste.' – Isaiah 28:16
("in haste" elsewhere is translated "never be shaken" and "never be stricken with panic")
The stone that the builders rejected has become the cornerstone. – Psalm 118:22
Jesus mentioned this portion of scripture when he spoke the parable of the wicked tenants who killed the landlord's son. Peter also referred to it when he was before the council following healing the lame man
This Jesus is the stone that was rejected by you, the builders, which has become the cornerstone. – Acts 4:11
We need to take care that we build on the foundation of our Lord Jesus Christ and follow Him: the wise master builder.
---
12 Now if anyone builds on the foundation with gold, silver, precious stones, wood, hay, straw-
13 each one's work will become manifest, for the Day will disclose it, because it will be revealed by fire, and the fire will test what sort of work each one has done.
14 If the work that anyone has built on the foundation survives, he will receive a reward.
15 If anyone's work is burned up, he will suffer loss, though he himself will be saved, but only as through fire. – 1 Corinthians 3:12-15
We may be very familiar with the concept in this passage that our works will be judged at the Bema Seat of Christ but the first thing I notice is that this is all about the foundation. Christ is our foundation. If a work is inspired by the Holy Spirit, motivated by the love of God, done in faith and obedience there will be a reward.
And whoever gives one of these little ones even a cup of cold water because he is a disciple, truly, I say to you, he will by no means lose his reward." – Matthew 10:42
Henceforth there is laid up for me the crown of righteousness, which the Lord, the righteous judge, will award to me on that day, and not only to me but also to all who have loved his appearing. – 2 Timothy 4:8
Blessed is the man who remains steadfast under trial, for when he has stood the test he will receive the crown of life, which God has promised to those who love him. – James 1:12
3 not domineering over those in your charge, but being examples to the flock.
4 And when the chief Shepherd appears, you will receive the unfading crown of glory. – 1 Peter 5:3-4
For what is our hope or joy or crown of boasting before our Lord Jesus at his coming? Is it not you? – 1 Thessalonians 2:19
I love the idea that our hope, joy and "crown of boasting" will be those in heaven that we invested in on earth. We will take nothing with us when we go to be with the Lord, but we will be so blessed to see how He used us to bless, teach, encourage, exhort, strengthen and build up others.
---
16 Do you not know that you are God's temple and that God's Spirit dwells in you?
17 If anyone destroys God's temple, God will destroy him. For God's temple is holy, and you are that temple. – 1 Corinthians 3:16-17
The word temple comes from the Latin word for "open or consecrated space". So we are a consecrated place for the Holy Spirit to dwell. The first temple was built by Solomon although the Lord had been happy for the Children of Israel to have a tent as the centre for their worship. I strikes me this morning that we are living in what Paul describes as tents now:
For in this tent we groan, longing to put on our heavenly dwelling, – 2 Corinthians 5:2
But we are destined to have eternal bodies. Will the Holy Spirit be dwelling in us in eternity? We are the temple of the Holy Spirit now on earth. When we rule and reign with Christ I expect we will have perfect communion with Him through the Spirit of God dwelling in us. In Revelation we see the Bride prepared:
2 And I saw the holy city, new Jerusalem, coming down out of heaven from God, prepared as a bride adorned for her husband.
3 And I heard a loud voice from the throne saying, "Behold, the dwelling place of God is with man. He will dwell with them, and they will be his people, and God himself will be with them as their God. – Revelation 21:2-3
God will dwell with us for eternity. Now, our hearts – the centre of our being – are the most holy place where the Spirit dwells. A place to be set apart, consecrated where no other god should be allowed to dwell. You are holy; therefore, let nothing destroy you. Satan wishes to destroy us and will try to get us to fill our heart with ourselves, our fleshly desires. Let's be holy as he is holy, consecrating our hearts, setting then apart for the Lord alone to dwell.
---
18 Let no one deceive himself. If anyone among you thinks that he is wise in this age, let him become a fool that he may become wise.
19 For the wisdom of this world is folly with God. For it is written, "He catches the wise in their craftiness,"
20 and again, "The Lord knows the thoughts of the wise, that they are futile." – 1 Corinthians 3:18-20
We should not trust in our "wisdom" but in Christ alone. Our experience, knowledge and judgment are nothing in comparison to the Lord our God. It is not natural to allow ourselves to become fools, that hurts our pride. The first use of the word wisdom in the bible is in reference to the Spirit of Wisdom (Exo. 28:3) giving workers the ability to make the items for the tabernacle. Proverbs is a wisdom book filled with the heart of God towards knowledge and wisdom:
The fear of the LORD is the beginning of knowledge; fools despise wisdom and instruction. – Proverbs 1:7
Let's be not foolish to despise wisdom and instruction but fools for Christ's sake (1 Cor 4:10) that we may become wise. In Christ we have the Wisdom of God (1 Cor 1:17); we are given the Spirit of Wisdom (Eph 1:17) and His Word dwelling in us richly giving us wisdom (Col 3:16). Let's not allow the filter of our experience, our knowledge or our judgment to formulate our wisdom but allow the word of God to be the filter on our experience, our knowledge and our judgement allowing the Lord to speak into our lives words of wisdom.
---
21 So let no one boast in men. For all things are yours,
22 whether Paul or Apollos or Cephas or the world or life or death or the present or the future-all are yours,
23 and you are Christ's, and Christ is God's. – 1 Corinthians 3:21-23
I suppose this is a kind of closing statement on the section that began at the beginning of this chapter, with people being partisan. I think it is quite hard to understand the statement that "all are yours". It may well be that Paul is referring to the fact that we will inherit all things in Christ.
In him we have obtained an inheritance, having been predestined according to the purpose of him who works all things according to the counsel of his will, – Ephesians 1:11
We are in Christ and that is all that matters. All of us, whether leader's teachers or in other roles, are all equal in Christ. David Guzik [a] suggests that even death is "ours". It is our servant, not our master. Death will cause our chains to fall off and will send us into real freedom with the Lord. How exciting!
[a]  https://enduringword.com/bible-commentary/1-corinthians-3/
The Holy Bible, English Standard Version. ESV® Text Edition: 2016. Copyright © 2001 by Crossway Bibles, a publishing ministry of Good News Publishers.