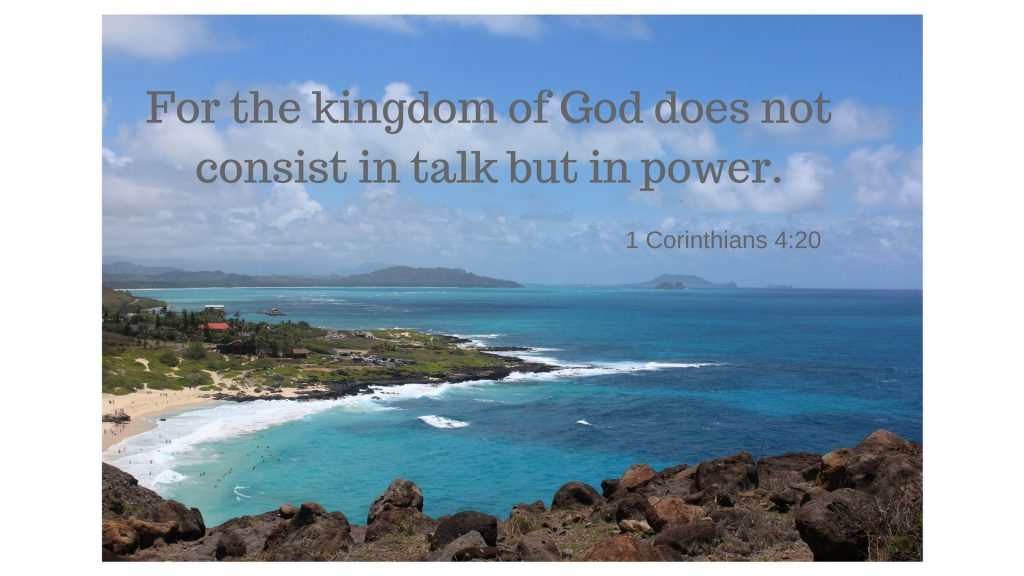 For the kingdom of God does not consist in talk but in power.
The First Epistle of Paul the Apostle to the CORINTHIANS – Chapter 4
1 This is how one should regard us, as servants of Christ and stewards of the mysteries of God.
2 Moreover, it is required of stewards that they be found faithful. – 1 Corinthians 4:1-2
We are not really familiar with the concepts of servants and stewards. Servant were people of inferiority, lacking freedom. Stewards seem to have been either in charge of children's wealfare and education or in charge of the masters affairs. Either way they were responsible to their master, had to give account and were required to be faithful. Christ has given us the mystery of the gospel:
Now to him who is able to strengthen you according to my gospel and the preaching of Jesus Christ, according to the revelation of the mystery that was kept secret for long ages – Romans 16:25
We have the Masters valuable gift and we need to use it well to the benefit of others. We will have to give account and the quality the Lord is looking for is faithfulness. The Pharisees were accused of neglecting justice, mercy and faithfulness (Mat 23:23) whereas we are called to, as Micah said:
He has told you, O man, what is good; and what does the LORD require of you but to do justice, and to love kindness, and to walk humbly with your God? – Micah 6:8
We are in Christ and He is Faithful and True (Rev 19:11). He is our faithfulness, given to us as a gift of the Spirit (Gal 5:22). We live by His faithfulness:
but Christ is faithful over God's house as a son. And we are his house, if indeed we hold fast our confidence and our boasting in our hope. – Hebrews 3:6.
Let's lay hold of Him today seeking His face, His mercy, His grace and being faithful to His gospel.
---
3 But with me it is a very small thing that I should be judged by you or by any human court. In fact, I do not even judge myself.
4 For I am not aware of anything against myself, but I am not thereby acquitted. It is the Lord who judges me.
5 Therefore do not pronounce judgment before the time, before the Lord comes, who will bring to light the things now hidden in darkness and will disclose the purposes of the heart. Then each one will receive his commendation from God. – 1 Corinthians 4:3-5
I think this is a wonderful passage and I can not do it justice in a small devotional passage. We are not to judge ourselves. The Lord is our judge. If we judge ourselves inevitable we will be wrong. Paul can not see anything he is guilty of but just because his conscience is clear does not mean he is justified. He knows his justification is by faith alone. it is the Lord that judges him. The Lord is concerned about the purposes of the heart not our fleeting failures in our flesh. The flesh is crucified it will die and we will be free from the influence of the sinful nature that always rebels against God. We will receive our heavenly reward from God.
I have been crucified with Christ. It is no longer I who live, but Christ who lives in me. And the life I now live in the flesh I live by faith in the Son of God, who loved me and gave himself for me. – Galatians 2:20
And those who belong to Christ Jesus have crucified the flesh with its passions and desires. – Galatians 5:24
each one's work will become manifest, for the Day will disclose it, because it will be revealed by fire, and the fire will test what sort of work each one has done. – 1 Corinthians 3:13
---
9 For I think that God has exhibited us apostles as last of all, like men sentenced to death, because we have become a spectacle to the world, to angels, and to men.
10 We are fools for Christ's sake, but you are wise in Christ. We are weak, but you are strong. You are held in honor, but we in disrepute.
11 To the present hour we hunger and thirst, we are poorly dressed and buffeted and homeless,
12 and we labor, working with our own hands. When reviled, we bless; when persecuted, we endure;
13 when slandered, we entreat. We have become, and are still, like the scum of the world, the refuse of all things. – 1 Corinthians 4:9-13
Paul is aware that his life is hanging in the balance between life and death. He said later:
Indeed, we felt that we had received the sentence of death. But that was to make us rely not on ourselves but on God who raises the dead. – 2 Corinthians 1:9.
To Him the sentence of death caused him to trust in Jesus. In the second letter to the Corinthians Paul gives much more detail of the physical trials he faced (2 Cor 11:23) and insight into the time he was stoned to death, saw a glimpse of heaven and then returned to his physical, battered body (2 Cor 12). Here he contrasts the physician trial with the spirit filled response: "when reviled we bless….". Jesus was not afraid to give up His heavenly glory to become the Servant of all. When He was scorned He blessed. Peter put it this way:
But rejoice insofar as you share Christ's sufferings, that you may also rejoice and be glad when his glory is revealed. – 1 Peter 4:13
No matter what trials we face Jesus has been through them and can totally identify with our suffering. He is our comfort and our refuge in times of trouble. As David said:
"The LORD is my rock and my fortress and my deliverer, my God, my rock, in whom I take refuge, my shield, and the horn of my salvation, my stronghold and my refuge, my savior; you save me from violence. – 2 Samuel 22:2-3
---
14 I do not write these things to make you ashamed, but to admonish you as my beloved children.
15 For though you have countless guides in Christ, you do not have many fathers. For I became your father in Christ Jesus through the gospel.
16 I urge you, then, be imitators of me. – 1 Corinthians 4:14-16
The world says "imitation is the highest form of flattery". But Paul is not urging people to imitate him in the flesh, but in the Spirit. Paul would be the first to say he boasts in Christ in him, not in his own strength. So we are to imitate Christ. We take Him as our model and want to manifest His qualities but not in our own strength but by His Spirit. John said:
Beloved, do not imitate evil but imitate good. Whoever does good is from God; whoever does evil has not seen God. – 3 John 1:11
And in the book of Hebrews:
Remember your leaders, those who spoke to you the word of God. Consider the outcome of their way of life, and imitate their faith. – Hebrews 13:7
And Paul encouraged the Ephesians:
1 Therefore be imitators of God, as beloved children.
2 And walk in love, as Christ loved us and gave himself up for us, a fragrant offering and sacrifice to God. – Ephesians 5:1-2
It is a father's joy when he sees his positive characteristics such a patience and faithfulness displayed in his children just as it is a great embarrassment to see his faults imitated. When we spend time with Spirit filled people their behaviours "rub off" and we become more like them. Thank God we do not just imitate an ideal, but others who have been transformed by the power of God.
---
7 That is why I sent you Timothy, my beloved and faithful child in the Lord, to remind you of my ways in Christ, as I teach them everywhere in every church.
18 Some are arrogant, as though I were not coming to you.
19 But I will come to you soon, if the Lord wills, and I will find out not the talk of these arrogant people but their power.
20 For the kingdom of God does not consist in talk but in power.
21 What do you wish? Shall I come to you with a rod, or with love in a spirit of gentleness? – 1 Corinthians 4:17-21
Paul ends this chapter with a practical suggestion. He is sending Timothy who is a faithful disciple of Paul so they can learn from him and imitate him. Apparently people had been saying lies; that Paul did not come back to Corinth because he did not care or love them. They were proud in their talk, belittling Paul and encouraging legalism. But Paul wants to come to them with the love of a father, with the Spirit of gentleness. How do we help those who at fault? In spirit of meekness, humility and grace. Jesus said:
"If your brother sins against you, go and tell him his fault, between you and him alone. If he listens to you, you have gained your brother. – Matthew 18:15
And James said:
19 My brothers, if anyone among you wanders from the truth and someone brings him back,
20 let him know that whoever brings back a sinner from his wandering will save his soul from death and will cover a multitude of sins. – James 5:19-20
And Paul to the Colossians said:
12 Put on then, as God's chosen ones, holy and beloved, compassionate hearts, kindness, humility, meekness, and patience,
13 bearing with one another and, if one has a complaint against another, forgiving each other; as the Lord has forgiven you, so you also must forgive. – Colossians 3:12-13
We are forgiven much so we can forgive much.
The Holy Bible, English Standard Version. ESV® Text Edition: 2016. Copyright © 2001 by Crossway Bibles, a publishing ministry of Good News Publishers.