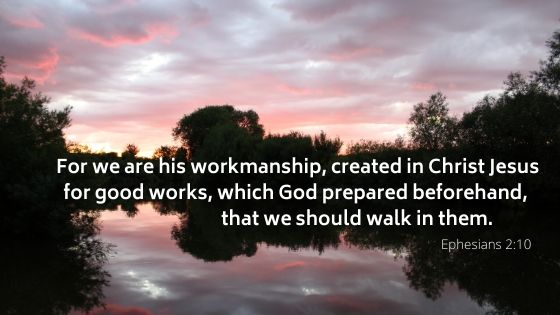 Ephesians 2:8-10
8 For by grace you have been saved through faith. And this is not your own doing; it is the gift of God, 9 not a result of works, so that no one may boast. 10 For we are his workmanship, created in Christ Jesus for good works, which God prepared beforehand, that we should walk in them.
In this post, we will see how grace and faith work together and how that helps do "good works"
Through Faith
Paul repeats the phrase for by grace you have been saved but this time adds through faith. Since the reformation, there has been a strong emphasis in the Evangelical movement to underline the importance of faith.  Jesus repeatedly said, "your faith has saved you" (Matthew 9:22 CSB, Luke 7:50). He rebuked people for their lack of faith (Matthew 8:26, 17:20). Only faith pleases God:
And without faith it is impossible to please him, for whoever would draw near to God must believe that he exists and that he rewards those who seek him (Hebrews 11:6).
One way to illustrate how grace and faith work together is this. Visualise a dam full of water, like an unlimited resource – this is the grace of God.  At the base of the dam, valves are leading to pipes. The size of the pipe determines how much the pressure of the water can flow through it. Through a small pipe, a small amount can flow even though the power of the unlimited water is readily available. A larger pipe has a greater flow. The pipes represent our faith. God wants us to have great faith so we can experience His abundant grace flowing through us, as a gift poured of us to others (1 Timothy 1:14).
The Gift of God
In this part of the letter, Paul emphasises this is not your own doing; it is the gift of God. God gives us the gift of eternal life (Romans 6:23). If someone gives you a gift how do you feel if they then try to pay you for it? Shocked, offended, hurt? We cannot buy our salvation. It is a gift from God. We cannot earn it. There is nothing you can do to please God. Nothing you do is good enough to be righteous before God (Romans 3:10). We are all unworthy and have to see how wretched we are before we can truly receive from God (Romans 7:24, Revelation 3:17).
We CANNOT boast!
Salvation is not a result of works, so that no one may boast. No one will be able to stand before God and say "I did it, I got myself into eternal life". No…every knee shall bow before God and declare He did it!
for it is written, "As I live, says the Lord, every knee shall bow to me, and every tongue shall confess to God." (Romans 14:11).
No one can boast before God. Oh, but how we boast to each other now. How we reckon we are great. The disciples had been with Jesus for nearly three years. As they went to Jerusalem, where Jesus had told them He was going to die an awful death, the disciples argued about who was the greatest among them (Luke 22:24).  Jesus taught  "The greatest among you shall be your servant" (Matthew 23:11). God wants people who have humble hearts.
For you save a humble people, but the haughty eyes you bring down. (Psalm 18:27)

The sacrifices of God are a broken spirit; a broken and contrite heart, O God, you will not despise (Psalm 51:17)

But he gives more grace. Therefore it says, "God opposes the proud but gives grace to the humble." (James 4:6)
He made us and we are the works of His hands, He does not want us to have pride. We are His workmanship.
His Workmanship
But now, O LORD, you are our Father; we are the clay, and you are our potter; we are all the work of your hand. (Psalms 64:8)
God frequently uses the illustration of a potter and his clay (Jeremiah 18:4, Romans 9:21). God formed us out of the dust (Genesis 2:7). He breathed life into us and we became living souls. He formed us and we are His workmanship, a thing made by God. Therefore He has the right to do whatever He wants with us. The good news is that He created us so that we could be in Christ, doing good works that He has ordained for us to do.
Good Works
What does it mean to do good works? From an early age, we are told to be good and to do good things. It becomes hardwired in our minds that to be accepted in life we have to do good things. We learn to walk and talk, spell and add up, pass tests and exams, achieve and get promoted, sell and make a profit. All this reinforces that we need to be good and do good to be accepted.
But that is not true in God's economy. Good works do not get you into eternal life, only faith in Jesus. We can do nothing good by ourselves in God's eyes.
They have all fallen away; together they have become corrupt; there is none who does good, not even one. (Psalm 53:3)
Paul says God has made us, He has placed us in Christ so that we can do the good works He has prepared for us to do. That way He gets the glory and we can be partakers in that glory because of God's grace (1 Peter 5:1).
In the next post, we will see how we who were so far away, have been brought near to Christ.