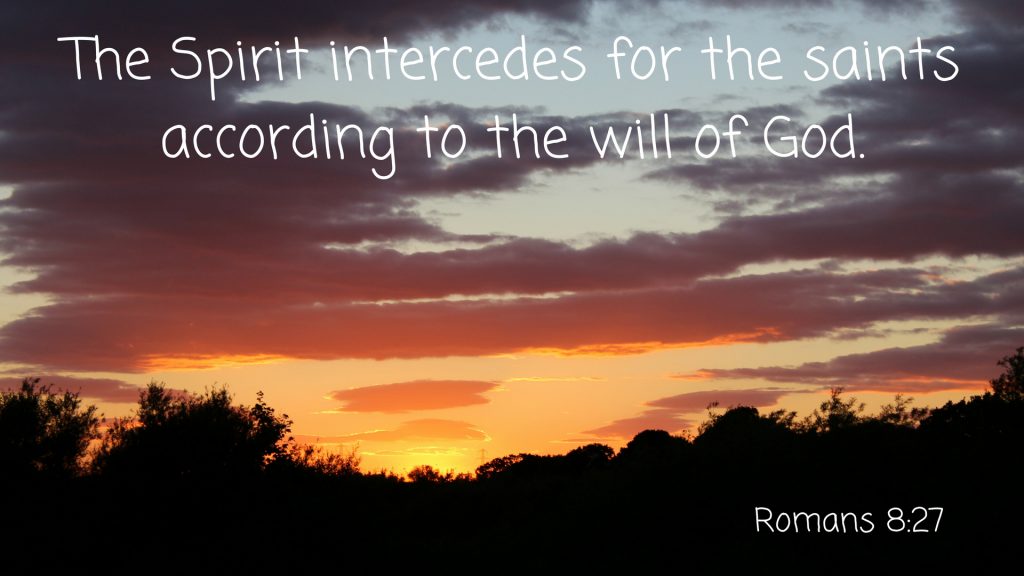 The Spirit Himself Intercedes for Us
Romans 8:26-27
26 Likewise the Spirit helps us in our weakness. For we do not know what to pray for as we ought, but the Spirit himself intercedes for us with groanings too deep for words.
27 And he who searches hearts knows what is the mind of the Spirit, because the Spirit intercedes for the saints according to the will of God. – Romans 8:26-27
The Spirit helps us with our weakness. Paul uses the same Greek word in this passage:
But he said to me, "My grace is sufficient for you, for my power is made perfect in weakness." Therefore I will boast all the more gladly of my weaknesses, so that the power of Christ may rest upon me. – 2 Corinthians 12:9
The word is also translated as sickness and infirmity. We are in a poor state. We don't even know what we should pray. But the Holy Spirit intercedes for us. Later in this chapter Paul says that Jesus also intercedes for us:
Who is to condemn? Christ Jesus is the one who died-more than that, who was raised-who is at the right hand of God, who indeed is interceding for us. – Romans 8:34
Jesus and that Holy Spirit stand in the gap for us, between us and our Heavenly Father. Jesus said:
All things have been handed over to me by my Father, and no one knows the Son except the Father, and no one knows the Father except the Son and anyone to whom the Son chooses to reveal him. – Matthew 11:27
Moses was a person who interceded for the Children of Israel. When God was angry with their idolatry and rebellion He threatened to destroy the Israelites.
9 And the LORD said to Moses, "I have seen this people, and behold, it is a stiff-necked people.
10 Now therefore let me alone, that my wrath may burn hot against them and I may consume them, in order that I may make a great nation of you."
11 But Moses implored the LORD his God and said, "O LORD, why does your wrath burn hot against your people, whom you have brought out of the land of Egypt with great power and with a mighty hand?
12 Why should the Egyptians say, 'With evil intent did he bring them out, to kill them in the mountains and to consume them from the face of the earth'? Turn from your burning anger and relent from this disaster against your people.
13 Remember Abraham, Isaac, and Israel, your servants, to whom you swore by your own self, and said to them, 'I will multiply your offspring as the stars of heaven, and all this land that I have promised I will give to your offspring, and they shall inherit it forever.'"
14 And the LORD relented from the disaster that he had spoken of bringing on his people. – Exodus 32:9-14
Moses intercedes for Israel calling on the mercy of God and that God's glory would be manifest in His treatment of the Children of Israel. He called on God to fulfil the promises He had made to Abraham, Isaac and Israel. Moses knew God was faithful and he wanted to see God glorified. He trusted in the promises of God. Jesus and the Holy Spirit want to see God the Father glorified through believers, through the church on the earth in this age. It is the will of God that His glory be made manifest, as Jesus prayed:
9 I am praying for them. I am not praying for the world but for those whom you have given me, for they are yours.
10 All mine are yours, and yours are mine, and I am glorified in them. – John 17:9-10
When we intercede for others we too should be conscious of the will of God. He does not want anyone to perish:
So it is not the will of my Father who is in heaven that one of these little ones should perish. – Matthew 18:14
He will never forsake us (Joshua 1:5, Hebrews 13:5). He has given us precious promises:
3 His divine power has granted to us all things that pertain to life and godliness, through the knowledge of him who called us to his own glory and excellence,
4 by which he has granted to us his precious and very great promises, so that through them you may become partakers of the divine nature, having escaped from the corruption that is in the world because of sinful desire. – 2 Peter 1:3-4
May God be glorified in all we do, say and pray.