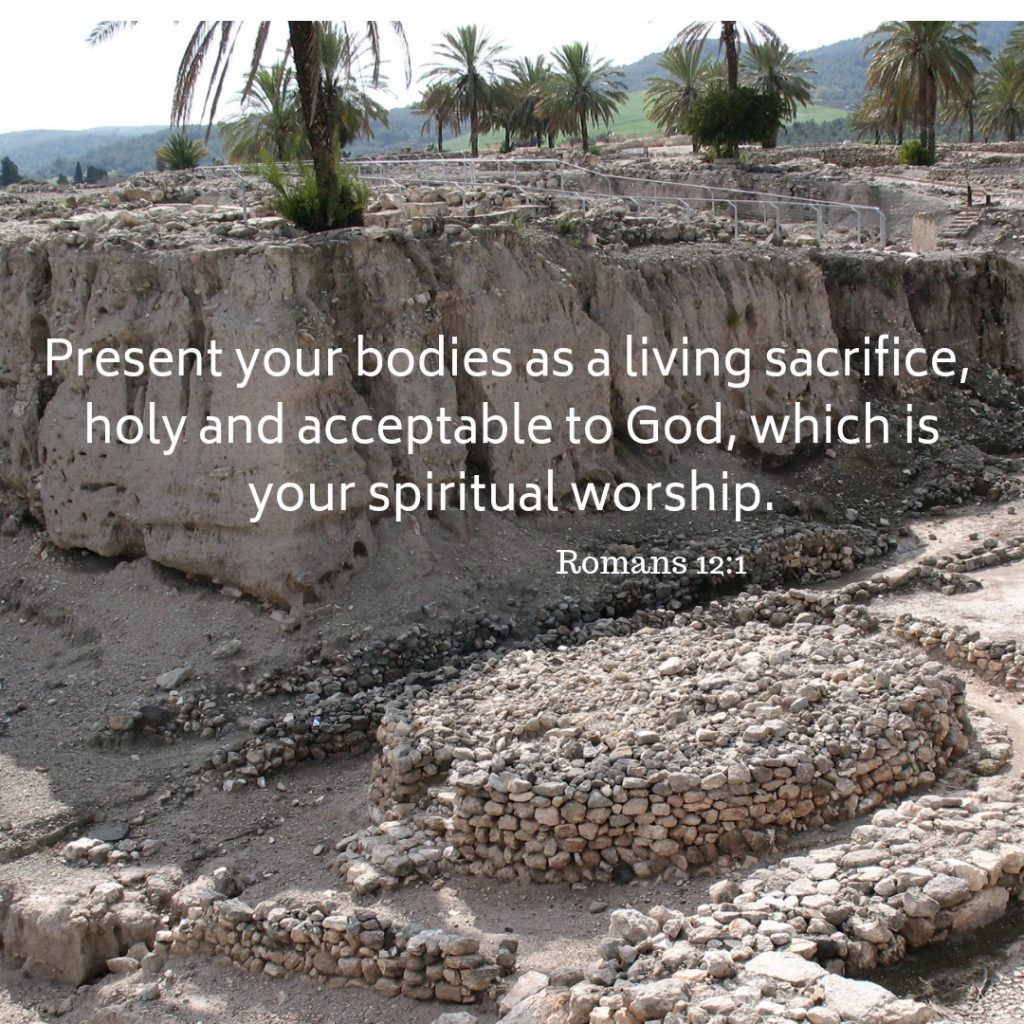 Romans 12:1-2
1 I appeal to you therefore, brothers, by the mercies of God, to present your bodies as a living sacrifice, holy and acceptable to God, which is your spiritual worship.
2 Do not be conformed to this world, but be transformed by the renewal of your mind, that by testing you may discern what is the will of God, what is good and acceptable and perfect. – Romans 12:1-2
Paul moves on from teaching doctrine to teaching how to apply these truths in our Christian walk. We need to know what God has done for us in order to see our lives transformed and our minds renewed. Paul appeals to the Romans, he wants them to take part in this great transformation. God has extended His mercy to the world but individuals need to respond to the gospel.
The use of the term bodies is interesting. However you understand the make up of a person (mind, emotion, will, personality, spirit, soul, heart) as individuals we express ourselves through our bodies. We are recognised, our behaviour is seen and we communicate with our bodies. Sadly when they go wrong we can be devastated. Illness, brain damage, dementia all have a dreadful effect on us. We depend on our bodies (just as much as we depend on our mind). They are the God given place where we dwell. Paul sometimes refers to our bodies as tents.
For we know that if the tent that is our earthly home is destroyed, we have a building from God, a house not made with hands, eternal in the heavens. – 2 Corinthians 5:1
For in this tent we groan, longing to put on our heavenly dwelling, – 2 Corinthians 5:2
We live on the earth in these corruptible tents, that falter and are failing because of sin, heading towards death. But, God has an eternal dwelling place for us to dwell in, a glorious body that we will live in for eternity.
Paul is encouraging believers to present their bodies as a living sacrifice. What is a sacrifice? Well, it means to give something valued up for the sake of some thing considered to be more valuable. The Jewish culture was very used to sacrifice as a way of having their sins covered. The whole system of temple worship was based on sacrifice. But how can we be a living sacrifice? By giving up our ideas, which by nature we consider very valuable, and believing the Word of God, valuing it more highly. The transforming of our mind. Not our will but His will. Not our thoughts but His thoughts. The renewing of your mind takes place as you put the revealed Word of God first in your heart. Meditate on the Word of God. Allow the Holy Spirit to bring to your remembrance relevant scriptures and spiritual principles into the situation you are in. As you set your mind on things above (Colossians 3:2) you become a living sacrifice. You operate according to the greater value of the mind of Christ (1 Corinthians 2:16), giving up your own ideas, understanding the will of God. As the NLT translates it:
Then you will learn to know God's will for you, which is good and pleasing and perfect.
God's plan for us is good, pleasing and perfect. Let's commit to walk in His ways not our own, as a living sacrifice, giving God the glory He deserves.