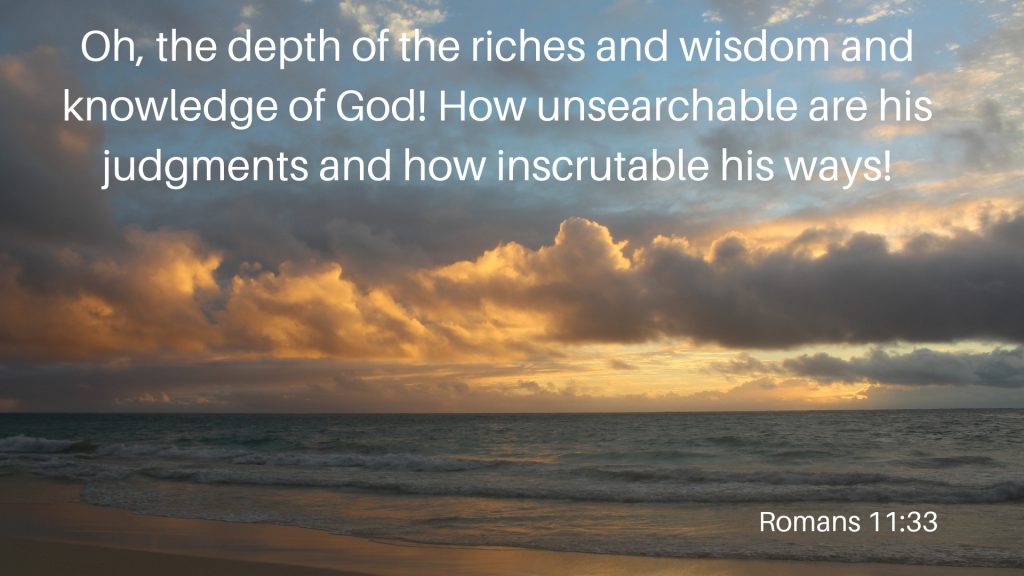 The Wisdom and Knowledge of God
Romans 11:33-36
33 Oh, the depth of the riches and wisdom and knowledge of God! How unsearchable are his judgments and how inscrutable his ways!
34 "For who has known the mind of the Lord, or who has been his counselor?"
35 "Or who has given a gift to him that he might be repaid?"
36 For from him and through him and to him are all things. To him be glory forever. Amen. – Romans 11:33-36
I love it when godly people in the Bible express their worship for God. I constantly feel I want to grow in the ability to worship God. Words just do not seem adequate. Here Paul is struck by the wisdom and knowledge of God.
Solomon realises the value of wisdom and knowledge when he requested to be blessed by God:
Give me now wisdom and knowledge to go out and come in before this people, for who can govern this people of yours, which is so great?" – 2 Chronicles 1:10
God blessed him and he became a renowned king. He worshiped God when the temple was dedicated:
and said, "O LORD, God of Israel, there is no God like you, in heaven or on earth, keeping covenant and showing steadfast love to your servants who walk before you with all their heart, – 2 Chronicles 6:14
He magnified God – the greatness of God. The Queen of Sheba was overwhelmed by Solomon's wisdom:
but I did not believe the reports until I came and my own eyes had seen it. And behold, half the greatness of your wisdom was not told me; you surpass the report that I heard. – 2 Chronicles 9:6
But, how much greater is the wisdom and knowledge of God:
O LORD, how manifold are your works! In wisdom have you made them all; the earth is full of your creatures. – Psalm 104:24
It is he who made the earth by his power, who established the world by his wisdom, and by his understanding stretched out the heavens. – Jeremiah 10:12
Who has known the mind of the Lord and who can repay Him His kindness? No one. For by Him all things were made. Through Him all things came into existence and everything is His. In the book of Colossians Paul clearly states that the Lord Jesus Christ was the one who made all things:
For by him all things were created, in heaven and on earth, visible and invisible, whether thrones or dominions or rulers or authorities-all things were created through him and for him. – Colossians 1:16
God the Father, God the Son and the Holy Spirit – one in their wisdom and knowledge working together in perfect unity, the God to whome all praise is due – for from him and through him and to him are all things. To him be glory forever. Amen.