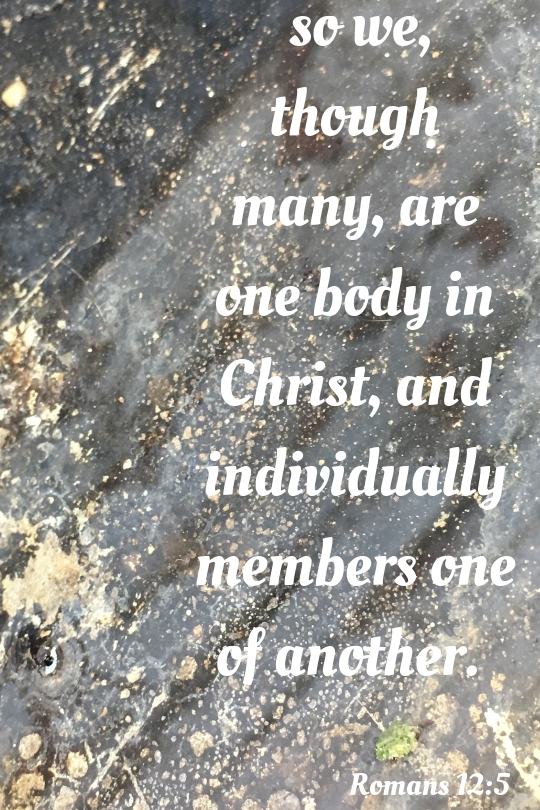 We are one body in Christ
Romans 12:3-5
3 For by the grace given to me I say to everyone among you not to think of himself more highly than he ought to think, but to think with sober judgment, each according to the measure of faith that God has assigned.
4 For as in one body we have many members, and the members do not all have the same function,
5 so we, though many, are one body in Christ, and individually members one of another. – Romans 12:3-5
Paul starts with grace. What a good starting point. We all need to be continually reminded of the grace of God. But his point is that we should not be proud. We have no reason to be proud before God. Everything has been done by Him, through Him and for Him. We are participants by His grace. We need sober judgment. Realistic appraisal of where we stand in the scheme of things. Everything we have or are has been given to us.
The world shouts the opposite message to us. Be self-made, be ambitious, develop yourself, strive for success, believe in yourself, just do it, because you are worth it. Google's strap line is "Don't be evil". Messages that bombard us through advertising and the media and become cultural norms without us even realising it. Teaching us that we can make it on our own. But, we can't.
We need to stand fast, in Christ, living according to the measure of faith God has assigned to us. Even our faith is a gift from God. We need to live in unity with our brothers and sisters in Christ:
Behold, how good and pleasant it is when brothers dwell in unity! – Psalm 133:1
Paul describes the church as the body of Christ. The body of Christ is a unified group of people and yet made up of differing parts, just like a body. We need direction from the head, just like a body. We are all dependant in each other and cannot exist in isolation. Paul is going to speak next about gifts given from God for the benefit of the body of Christ. Here he is laying the foundation that it all has to be done within the body of Christ. It all depends on our relationship with Christ, our head.
Rather, speaking the truth in love, we are to grow up in every way into him who is the head, into Christ, – Ephesians 4:15
But I want you to understand that the head of every man is Christ, the head of a wife is her husband, and the head of Christ is God. – 1 Corinthians 11:3