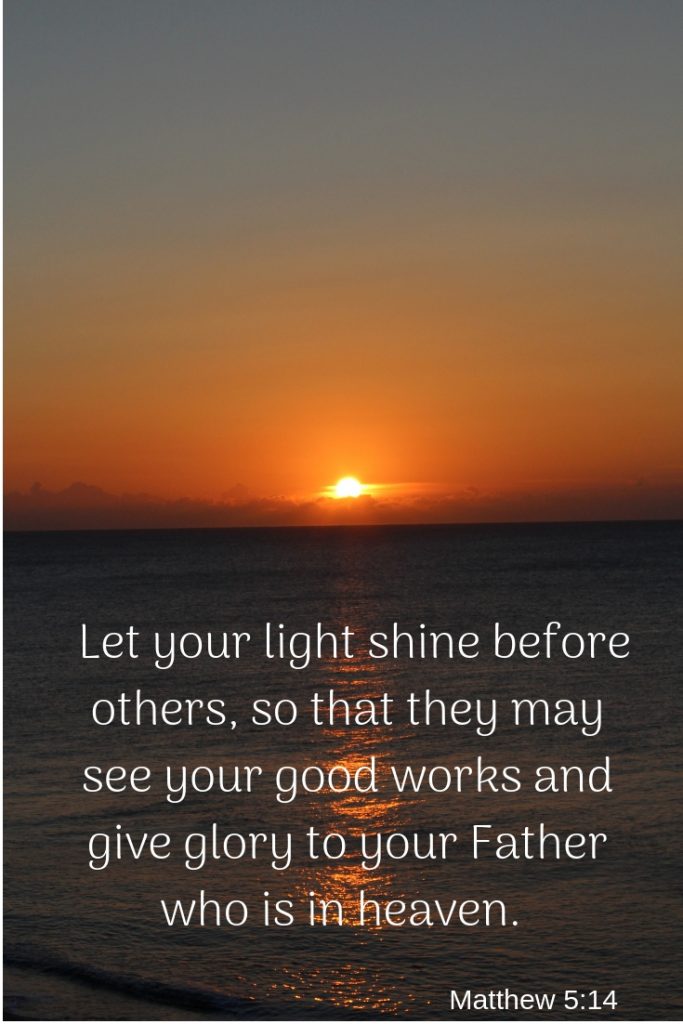 Romans 12:6-8
6 Having gifts that differ according to the grace given to us, let us use them: if prophecy, in proportion to our faith;
7 if service, in our serving; the one who teaches, in his teaching;
8 the one who exhorts, in his exhortation; the one who contributes, in generosity; the one who leads, with zeal; the one who does acts of mercy, with cheerfulness. – Romans 12:6-8
God gives us gifts to use to edifying and build the church. We are each given differing gifts so that we can work together as a body. Paul first says let us use them. That may seem obvious but as Jesus said, we should not hide our gifts:
14 "You are the light of the world. A city set on a hill cannot be hidden.
15 Nor do people light a lamp and put it under a basket, but on a stand, and it gives light to all in the house.
16 In the same way, let your light shine before others, so that they may see your good works and give glory to your Father who is in heaven. – Matthew 5:14-16
The gifts are not given for us to enjoy but for the benefit of the whole body of believers, the church.
Prophecy in the first century culture was not as we understand it, a form of for telling the future. To prophecy was to proclaim your belief, to teach your understanding and doctrines. So a minister who shares his sermon or teaching is a form of prophesying, as is sharing what you believe with someone. Interestingly the word minister in the Greek means a servant. So, the next point of service is relevant. We show our love to the church through our service, what we do the bless others and support the church. Exhortation is beneficial because we all need encouragement. Paul was often encouraged by believers around him and mentioned people who supported him in his letters. Paul himself was a wonderful encourager as well as a corrective force in the early church.
We contribute to the church not only financially but through the time and effort we spend in supporting the ministry. God loves a cheerful giver:
Each one must give as he has decided in his heart, not reluctantly or under compulsion, for God loves a cheerful giver. – 2 Corinthians 9:7
Leaders should express their zeal. This should not necessarily  be in a worldly, powerful, polished presentation way but with a passion and love from the heart. People follow a person who is passionate. People see a genuine love for the leaders belief, so long as it stems from a genuine love for Jesus and a desire to give Him the glory.
We also need to act with compassion and mercy. This it the main attribute of the Living God that makes Him so different from any other "god". The Lord reaches out to His lost sheep with compassion and mercy. The god of this world, Satan, wants to dominate and destroy. We can show mercy because we have received mercy. We can forgive because we have been forgiven. We can try and reconcile people because we have been reconciled with our Heavenly Father. That is why we can be cheerful even in the face of adversity, because God is for us:
31 What then shall we say to these things? If God is for us, who can be against us?
32 He who did not spare his own Son but gave him up for us all, how will he not also with him graciously give us all things?
33 Who shall bring any charge against God's elect? It is God who justifies.
34 Who is to condemn? Christ Jesus is the one who died-more than that, who was raised-who is at the right hand of God, who indeed is interceding for us.
35 Who shall separate us from the love of Christ? Shall tribulation, or distress, or persecution, or famine, or nakedness, or danger, or sword? – Romans 8:31-35
If you want to know more about how to enter a relationship with God, how to be forgiven of your sins and how to become a Christian please take a look at the Gospel section above or get in touch with me through the contact me page.
Scripture quotations are from The Holy Bible, English Standard Version® (ESV®), copyright © 2001 by Crossway, a publishing ministry of Good News Publishers. Used by permission. All rights reserved.