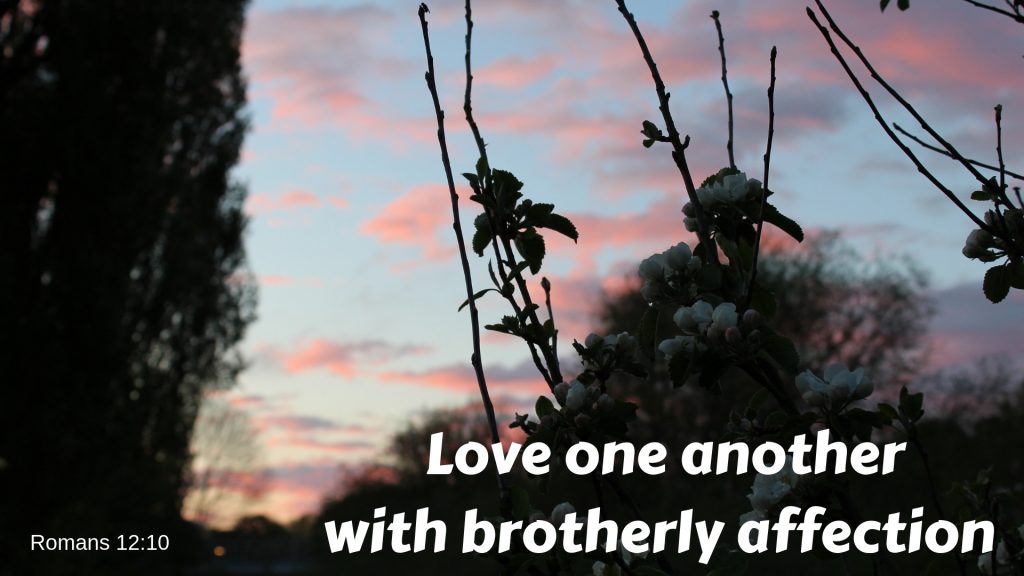 Romans 12:9-13
9 Let love be genuine. Abhor what is evil; hold fast to what is good.
10 Love one another with brotherly affection. Outdo one another in showing honor.
11 Do not be slothful in zeal, be fervent in spirit, serve the Lord.
12 Rejoice in hope, be patient in tribulation, be constant in prayer.
13 Contribute to the needs of the saints and seek to show hospitality. – Romans 12:9-13
Paul outlines many areas that are effected as we offer ourselves as a living sacrifice. Most of them involve relationships. To love one another is paramount. Jesus taught that the greatest commandment was to love God and love others:
37 And he said to him, "You shall love the Lord your God with all your heart and with all your soul and with all your mind.
38 This is the great and first commandment.
39 And a second is like it: You shall love your neighbor as yourself.
40 On these two commandments depend all the Law and the Prophets." – Matthew 22:37-40
To abhor evil and to hold on to what is good speaks of justice:
Hate evil, and love good, and establish justice in the gate; it may be that the LORD, the God of hosts, will be gracious to the remnant of Joseph. – Amos 5:15
Showing honour, being zealous, reliable, passionate and enthusiastic are all qualities that are respected in leadership. Qualities needed to shepherd the flock of God.
Personal qualities of patience, endurance and praise, with will keep a person standing in the grace of God. We all need to learn how to pray. How to grow in that close personal relationship with our Father in heaven.
God encourages us to show hospitality. In our time many have learned to be independent family units living very isolated lives within our communities. We survive with a few friends and social media contacts. When you come across people who are very generous and offer hospitality they stand out. The Greek word for hospitality philoxenia means the love of strangers. So it is not so much offering food but meeting the needs of strangers:
Cheerfully share your home with those who need a meal or a place to stay.- 1 Peter 4:9 (NLT)
And of course the author of Hebrews encouraged hospitality:
1 Let brotherly love continue.
2 Do not neglect to show hospitality to strangers, for thereby some have entertained angels unawares. – Hebrews 13:1-2
God is generous. He wants to bless us and does so way beyond our imagination. Therefore we can be generous with others looking for ways we can meet their needs. We can love one another through generosity because God has been generous to us:
20 Now to him who is able to do far more abundantly than all that we ask or think, according to the power at work within us,
21 to him be glory in the church and in Christ Jesus throughout all generations, forever and ever. Amen. – Ephesians 3:20-21