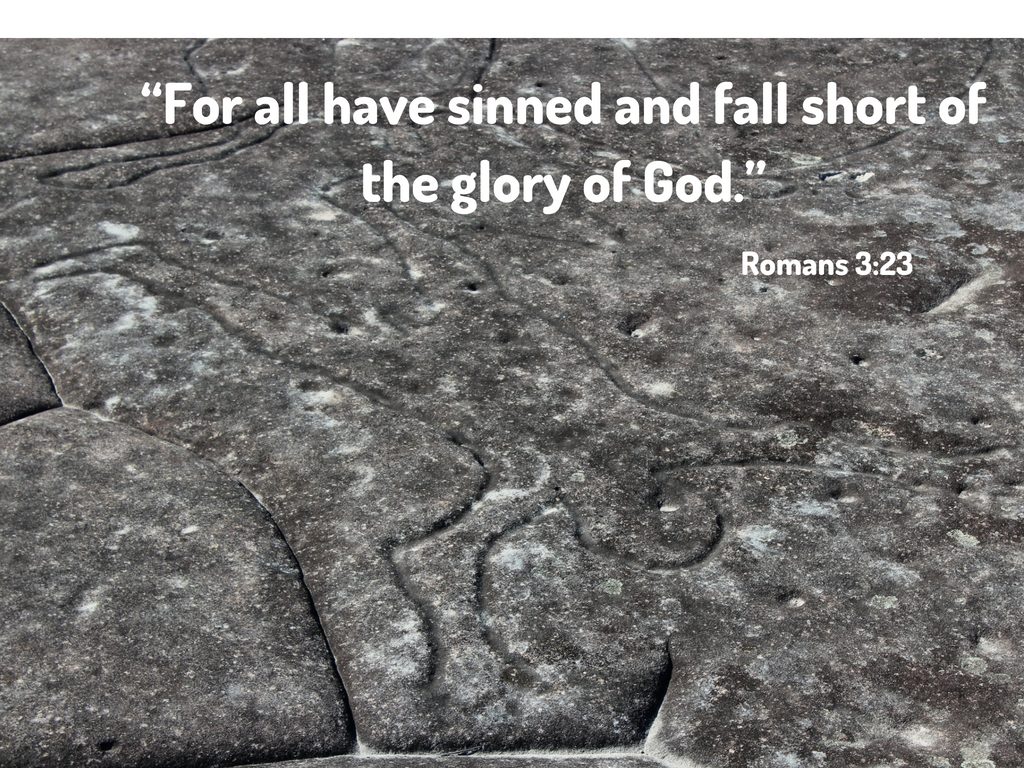 "For all have sinned and fall short of the glory of God."
Romans 3:21-23
21 But now the righteousness of God has been manifested apart from the law, although the Law and the Prophets bear witness to it-
22 the righteousness of God through faith in Jesus Christ for all who believe. For there is no distinction:
23 for all have sinned and fall short of the glory of God, – Romans 3:21-23
Verse 21 starts with "But" which is a great little word because it is heralding a new direction. If someone says "I love you but…" you imagine trouble is coming. Or if they say "I really should punish you but…." you immediately have hope. Here we have hope. Paul has been telling the Roman church that they are all under sin. In fact verse 23 is the "one liner" that wraps up the whole of the previous chapters.
"For all have sinned and fall short of the glory of God."
One of the most widely used verses in sharing the gospel. It sums up our condition without God. But from this point on Paul begins to teach about justification and the gift of righteousness given through Jesus. The essence of the "good news" given apart from the law.
The righteousness of God through faith in Jesus Christ for all who believe.
We do not earn righteousness by keeping the law but it is given to us through faith, the faith of the Son of God, who gave Himself for us that we might live. We have faith in the word of God, trusting that He will keep His word.
He restores my soul. He leads me in paths of righteousness for his name's sake. – Psalm 23:3
He will receive blessing from the LORD and righteousness from the God of his salvation. – Psalm 24:5
5 he saved us, not because of works done by us in righteousness, but according to his own mercy, by the washing of regeneration and renewal of the Holy Spirit,
6 whom he poured out on us richly through Jesus Christ our Savior,
7 so that being justified by his grace we might become heirs according to the hope of eternal life. – Titus 3:5-7
But according to his promise we are waiting for new heavens and a new earth in which righteousness dwells. – 2 Peter 3:13
If you want to know more about how to enter a relationship with God, how to be forgiven of your sins and how to become a Christian please take a look at the Gospel section above or get in touch with me through the contact me page.
Scripture quotations are from The Holy Bible, English Standard Version® (ESV®), copyright © 2001 by Crossway, a publishing ministry of Good News Publishers. Used by permission. All rights reserved.