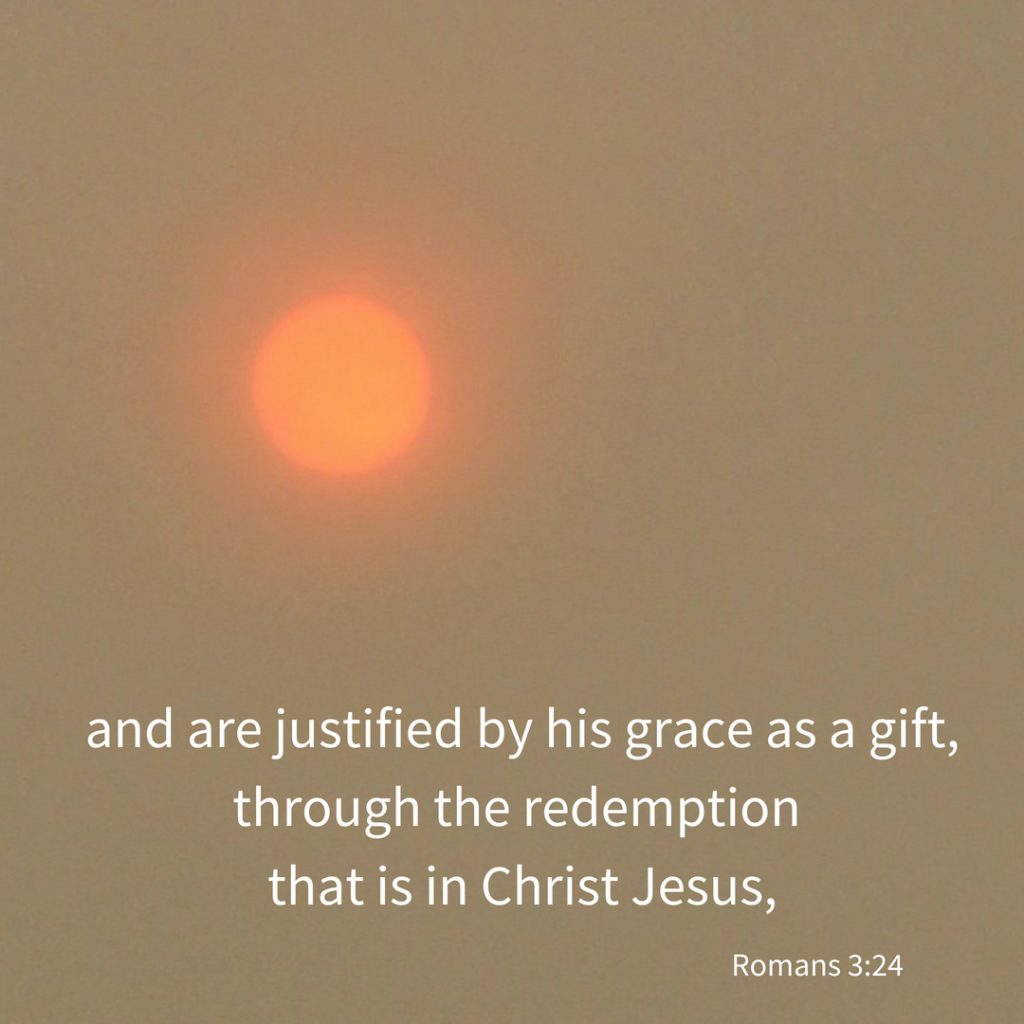 Romans 3:23-24
23 for all have sinned and fall short of the glory of God,
24 and are justified by his grace as a gift, through the redemption that is in Christ Jesus, – Romans 3:23-24
The word justified is not one we use very often in our culture. If we do it is normally in this context: "He was justified in being angry" – to show that he was right or being reasonable. But, in the bible the act of justification is to declare or make righteous in the sight of God.  How is it that a man can be justified or in the right before God? This was the big question Job had (Job 9:2). Well it is through the sacrifice made on the cross:
For our sake he made him to be sin who knew no sin, so that in him we might become the righteousness of God. – 2 Corinthians 5:21
We are justified the moment we receive salvation. We are declared righteous because the Father sees us in Christ, clothed in His righteousness. it is the gift of grace. There are illustrations in the bible of this. In Zechariah the prophet sees a vision of the high priest dressed in filthy clothes:
And the angel said to those who were standing before him, "Remove the filthy garments from him." And to him he said, "Behold, I have taken your iniquity away from you, and I will clothe you with pure vestments." – Zechariah 3:4
And in Isaiah the idea of being clothed in righteousness is clearly revealed:
I will greatly rejoice in the LORD; my soul shall exult in my God, for he has clothed me with the garments of salvation; he has covered me with the robe of righteousness, as a bridegroom decks himself like a priest with a beautiful headdress, and as a bride adorns herself with her jewels. – Isaiah 61:10
And in the book of Revelation:
13 Then one of the elders addressed me, saying, "Who are these, clothed in white robes, and from where have they come?"
14 I said to him, "Sir, you know." And he said to me, "These are the ones coming out of the great tribulation. They have washed their robes and made them white in the blood of the Lamb. – Revelation 7:13-14
By the gift of grace from God we are given the righteousness of His Son, through the redemption that is in Jesus Christ. We are given the new covering of righteousness that forever hides our shame. We are justified – and it is as if we had never sinned. God sees us as perfect in His Son, now and forever throughout eternity. The gift of grace we do not deserve and we can never earn.