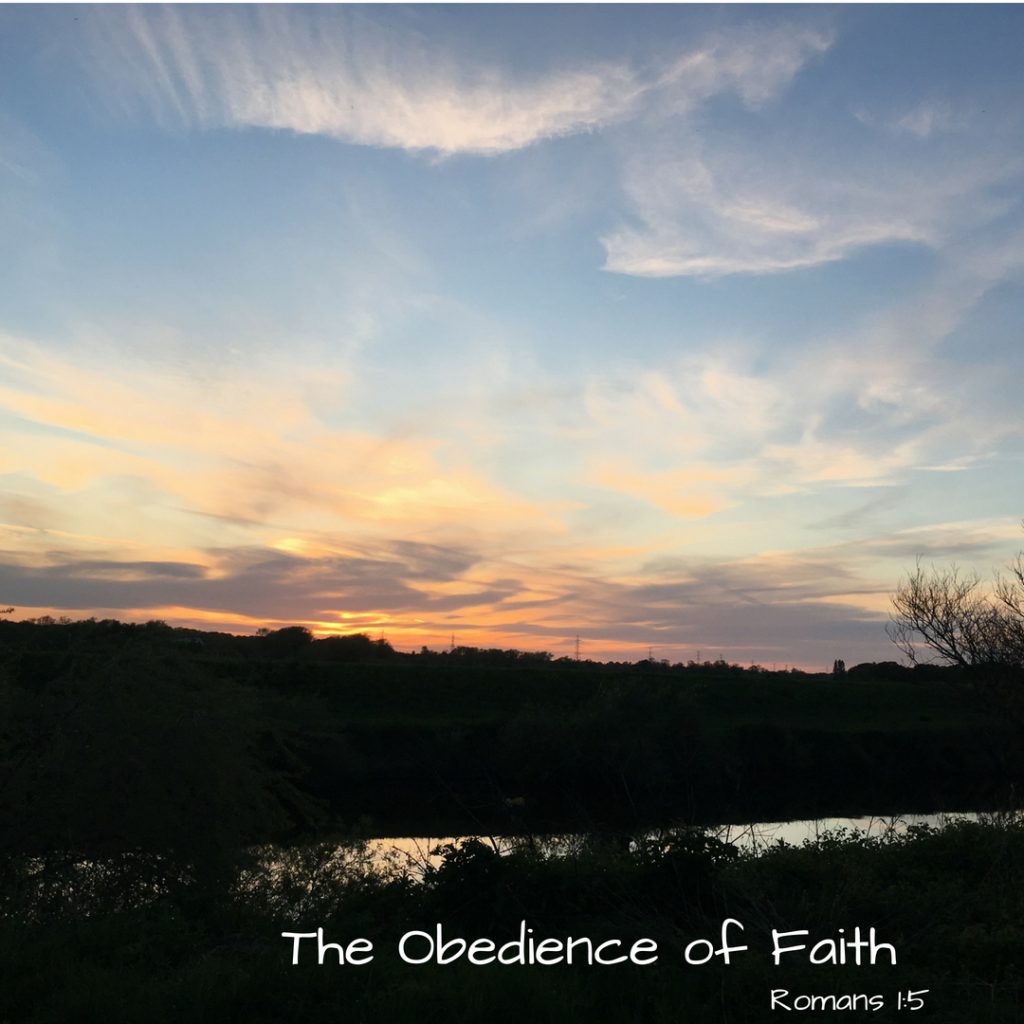 Romans 1:5-6
5 through whom we have received grace and apostleship to bring about the obedience of faith for the sake of his name among all the nations,
6 including you who are called to belong to Jesus Christ, – Romans 1:5-6
Paul states here that WE have received grace and apostleship. He is not talking about himself but the church has received the gift of grace and apostleship. We have been given love, compassion and forgiveness, that we do not deserve, so that we can go out with a message, sent by God to be his ambassadors. But what does this bring about? Obedience. The obedience of faith. This is one of Paul' s sayings that is a little ambiguous. What is he saying here? The mark of the people in the "hall of faith" in Hebrews 11 is that they all showed their faith through obedience. Abram left his land, his  family and his inheritance in obedience to God (Genesis 12:1). Moses chose to identify with the slaves, his people, rather than remain in the palaces of Pharaoh (Hebrews 11:26). Their faith led to obedience and their obedience led to faith. Why? For the sake of the Lord Jesus Christ and for all those who belong to the Lord. Paul puts it "for the sake of His name". The name of a person in the ancient world stood for the reputation of the person and their reputation was so very important to them. We here the phrase "my word is my bond" in the culture of the stock exchange but in the ancient world if you lost your reputation you became worthless and untrustworthy. The name of God stands for all that He is: faithful, true, just, almighty and all the other attributes of God.
But for this purpose I have raised you up, to show you my power, so that my name may be proclaimed in all the earth. – Exodus 9:16
Yet he saved them for his name's sake, that he might make known his mighty power.  – Psalm 106:8
"Therefore, behold, I will make them know, this once I will make them know my power and my might, and they shall know that my name is the LORD." – Jeremiah 16:21
"'I know your works. Behold, I have set before you an open door, which no one is able to shut. I know that you have but little power, and yet you have kept my word and have not denied my name. – Revelation 3:8
The whole nature of God and who He is is wrapped up in His Name. The great I AM (Exodus 3:14). The fulfillment of all we need and all our desires found in our Lord Jesus, the Christ. And we are called to belong to Jesus Christ. Jesus prayed that we would be with Him and would see His glory.
Father, I desire that they also, whom you have given me, may be with me where I am, to see my glory that you have given me because you loved me before the foundation of the world.- John 17:24
Paul wanted to bring about the obedience of faith for the sake of His name among all the nations. He wanted to see God glorified through faith in Jesus Christ.